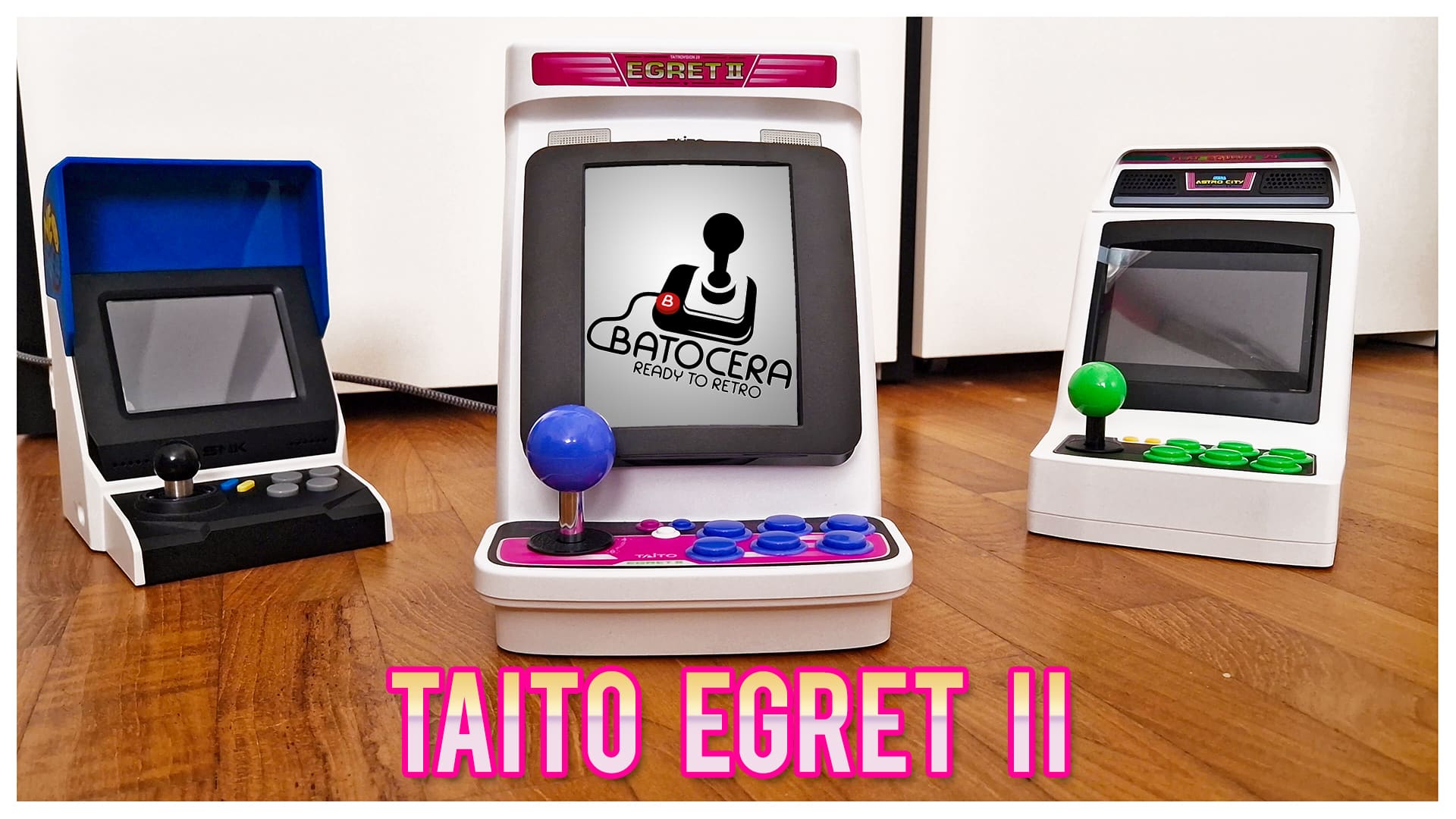 TAITO EGRET II Mini
1 Gennaio 2023
EMULAZIONE: UN MONDO FANTASTICO!
9 Gennaio 2023
LE DIMENSIONI DEI GIOCHI NELLE CONSOLES
Da tempo mi ronzava in testa l'idea di avere una tabellina da consultare (per puro spirito masochistico) dove poter leggere le dimensioni dei vari giochi rilasciati per le varie consoles cosi, armato di pazienza, ho fatto la mia ricerca.
I dati riportati si intendono "approssimativi" o quanto meno rispecchiano le varie discussioni in merito che si possono trovare sul web cercando come sempre di estrapolarli nel modo più preciso possibile anche se, visto l'argomento, la matematicità della correttezza non è possibile.
Iniziamo con il vedere quanti bytes contiene un singolo gioco UFFICIALE (no demo o public domain/homebrew) per console (i range espressi rappresentano la dimensione minima e massima rilevata – le descrizioni aggiuntive che ho inserito a margine sono in inglese per rendere più universale questo post visto che di questo argomento se ne parla abbastanza tra i retrogamers):
NES: 8kB-1MB (128-384kB is the most common)
FDS: 64-256KB (1 disc side is 56KB, 1 disc total size -2 sides- is 112KB – 224KB games are 2-discs games)
SNES: 0.23-4MB (6MB for "Tales of Phantasia" and "Star Ocean")
GB: 32KB-4MB (the biggest game [4MB] is "Densha de Go!")
GBC: 128KB-8MB (the biggest game [8MB] is "Densha de Go! 2")
SNES: 0.23-6MB (biggest games are 6MB: "Tales of Phantasia" and "Star Ocean" – largest fan-made ROM is 96mbits "neviksti's S-DD1 removal hack of Star Ocean")
Virtual Boy: 1-2MB
N64: 4-64MB
64DD: 64MB (single disc capacity is 64MB)
GBA: 4-32MB (some *Movie* ROMs, few titiles, are 64MBs with GBA doing bank switching)
GAMECUBE: 28MB-2.6GB (scrubbed; a single disc is always 1.46GB – Smallest game [28MB] seems to be "Animal Crossing", smallest "title" [2.5MB] anyway is "Game Boy Player Start-Up Disc", Biggest game [2.6GB] is the 2-discs "Baten Kaitos – Eternal Wings and the Lost Ocean")
iQue: 3-40MB
DS/DSi: 8–512MB
Wii Discs: 200MB-4.5GB (scrubbed; DVDs can be 4.37GB single-layer-DVD or 8.74GB dual-layer-DVD)
Wii digital WiiWares: 6MB-50MB (the biggest Wii digital downloads are "Rock Band 2 (USA)" DLCs [~25GB])
3DS/New 3DS: 128MB–8GB
3DS digital download: 1.5MB-3.8GB
WiiU Discs: 95MB-29.7GB (scrubbed, non-compressed and including Updates/DLCs folders; smallest game [95MB] is "NES Remix 2", biggest game [21.8GB] is "LEGO Dimension"; a single disc is always 25GB)
WiiU digital eShop: 18MB-18GB (non-compressed and including updates/DLCs folders; smallest game [18MB] is "Defend your Crypt", biggest game [18GB] is "Yakuza – Ryu-ga gotoku 1&2 HD for Wii U")
Switch: 2-32GB (the smallest games are 2GB cartridges trimmed to some hundreds MBs)
Switch eShop: 16MB-33GB (the biggest game is actually "NBA 2K20")


SG1000/SG1000II: 8KB-128KB (last produced cartridge game "Loretta no Shouzou: Sherlock Holmes" is 128KB, all the others are smaller)
Master System/Mark III: 32KB-1MB
Game Gear: 64KB-1MB
Mega Drive/Genesis: 128KB-5MB (8MB for "Pier Solar" (unlicensed), 10MB for "Paprium" (unlicensed))
Sega 32X: 2MB-4MB
Sega CD: 140-676MB per disc; the biggest game [4CDs] is "Slam City with Scottie Pippen (USA)"
Saturn: 32-671MB; the biggest game [8CDs] is "PhantasM"
Dreamcast: 8MB-1.1GB (~1.1GB per disc, real size depends on each game; the biggest game [4CDs] are "D2 (USA)" and "Shenmune" I and II, smallest game [8MB] is "Namco Museum")


PS1: the console uses 650-700MB discs (the biggest games have 5-discs, smallest games/apps are 2-10MB)
PS2: 30MB-8.5GB (DVD5 Single-layer 4.7GB and DVD9 Dual-layer, 8.5GB)
PS3: Single [25GB] or dual layer [50GB] BD; the biggest game [43GB] is "Uncharted 3"
PSP: 110-2.4GB (the biggest game is the 2-disc game "Winglish – Oh's Talk English (Korea)", the smallest game is "KAIZOU CHOJIN SHUBIBINMAN" – a single UMD disc can store max 900MB [single layer] or 1.8GB [dual layer])
PSP PSOne Classics: 5MB-2.4GB
PSP Minis: 100MB-1GB
PSVITA: 2-4GB (NVG Cards)
PSVITA Digital Download: 4MB-18GB (biggest game is "Phantasy star Online 2", smallest titles are console apps like "Skype")
PS4: Single [25GB] or dual layer [50GB] BD (it seems to support 3 and 4 layers but no games in that format actually exists): the biggest game [165GB] seems to be "Destiny 2" with all its digital DLCs
PS5: Single [66GB] or dual layer [100GB] BD: the biggest game [226HB] seems to be "Call of Duty – Black Ops Cold War"


2600: 2-32kB (a multigame cart can be 64kB)
5200: 4-40kB
7800: 16-144kB (some test or proto carts 4-8kB)
Lynx: 128-512kB
XEGS: 16-128kB
Jaguar: 1-4MB
Jaguar CD: 63-700MB (the biggest official game is "Vid Grid", the smallest official game is "Baldies")
NEC PCE/TG16: 24KB-2.5MB (the biggest game is "Street Fighter II' – Champion Edition", the smallest official game is "Baldies")
NEC PCE CD: 50-770MB
Amstrad GX4000: 128kB
NEO GEO: 2.8-90MB (the biggest game [716MegaBit = 89.5MB] is "King of Fighters 2003", the smallest game [24MegaBit = 2.8MB] is "Joy Joy Kid")

NEO GEO CD: 8MB-740MB
Neo Geo Pocket: 512KB-4MB
WonderSwan: 512KB-16MB (the bigget game [16MB] is "Beatmania for WS")
3DO: 5-670MB (the biggest games have 4 discs)
Philips CDi: 750MB for each disc (biggest game is "Golf My Way" a multimedia application with 5 discs, smallest games are ~10-20MB)


Passiamo poi a vedere "indicativamente" quanto occupano i singoli sets di giochi COMPLETI qualora li volessimo TUTTI nei nostri hard disks; la lista di seguito riportata dovrebbe tenere in considerazione TUTTE le versioni specifiche e TUTTE le revisioni regionali di TUTTI i titoli attualmente dumpati e NON COMPRESSI con un margine di errore comunque piuttosto grande (solitamente per difetto, non per eccesso!) che potrebbe oscillare anche del 30-50% a seconda della periferica di gioco considerata (notare che per le consoles più recenti potrebbero mancare diversi titoli ancora non dumpati):

CONSOLES A CARTUCCE

Atari 800: 111 MB
Atari 2600: 3.59 MB
Atari 5200: 1.19 MB
Atari 7800: 1.96 MB
Atari ST: 2.75 GB
Atari Jaguar: 88.5 MB
Atari Lynx: 11.2 MB
Nintendo NES: 275 MB
Nintendo FDS: 32 MB
Nintendo Gameboy: 199 MB
Nintendo Gameboy Color: 644 MB
Super Nintendo: 2.91 GB
Gameboy Advance: 8.4 GB
Nintendo 64: 5.5 GB
Nintendo 64 DD: 241 MB
Nintendo DS: 144 GB
Sega 32X: 89.4 MB
Sega Game Gear: 83.3 MB
Sega Master System: 62.3 MB
Sega Genesis/Mega Drive: 1.08 GB
Sega Pico: 239 MB
Sega SG-1000: 2.86 MB
CONSOLES A DISCHI

Panasonic 3DO: 189GB
Sega CD: 165GB
Sega Saturn: 446GB
Dreamcast: 0.614 TB
GameCube: 2.318 TB
PS1: 3.722 TB
PS2: 17.741 TB
PS3: 16.818 TB
PSP: 1.325 TB
Saturn: 0.642 TB
Wii: 6.5 TB
Xbox: 11.274 TB
Xbox 360: 4.685 TB


Di seguito un elenco suddiviso per DIMENSIONE COMPRESSA e contenente SOLO i titoli [!] (cioè i "good dumps") senza la pretesa che i dati scritti siano corretti purtroppo:

675.1 GiB /Nintendo Gamecube
570.6 GiB /Playstation
515.2 GiB /Sega Saturn
501.7 GiB /Sega Dreamcast
292.5 GiB /Nintendo 3DS
161.8 GiB /Nintendo DS
126.5 GiB /Sega Mega-CD & Sega CD
119.4 GiB /Amiga
57.5 GiB /Panasonic 3DO
34.7 GiB /Philips CDi
16.3 GiB /Nintendo 64
12.3 GiB /Nintendo Gameboy Advance
9.9 GiB /SNES
9.0 GiB /Bandai Playdia
8.0 GiB /Memorex VIS
2.8 GiB /Sharp x68000
2.4 GiB /Bandai Apple Pippin
2.1 GiB /Nokia N-Gage
1.2 GiB /Sega Genesis
553.8 MiB /Commodore 64
427.5 MiB /Sinclair ZX Spectrum
226.1 MiB /Nintendo Gameboy Color
186.9 MiB /Nintendo Switch
164.3 MiB /Leapfrog Leapster Learning Game System
152.1 MiB /Bandai WonderSwan Color
109.3 MiB /NES
105.9 MiB /Atari ST
97.3 MiB /Sega Master System
93.9 MiB /Bandai WonderSwan
92.2 MiB /NEC PC Engine TurboGrafx 16
82.0 MiB /Atari Jaguar
74.4 MiB /Sega 32X
68.0 MiB /Atari 2600
65.6 MiB /Nintendo Gameboy
60.2 MiB /SNK Neo Geo Pocket Color
22.2 MiB /Microsoft MSX
22.1 MiB /Microsoft MSX 2
17.1 MiB /Atari Lynx
8.9 MiB /Funtech Super Acan
5.2 MiB /Acorn 8bit
5.0 MiB /Atari 7800
4.4 MB /SNK Neo Geo Pocket
3.2 MB /Sega SG-1000
2.4 MB /NEC Super Grafx
2.2 MB /Coleco ColecoVision
2.2 MB /Commodore VIC-20
1.1 MB /Atari 5200
640.0 KB /Magnavox Odyssey2
480.0 KB /Epoch Super Cassette Vision
280.0 KB /GCE Vectrex
268.0 KB /Emerson Arcadia 2001
268.0 KB /Phillips Videopac G7000
196.0 KB /Casio PB-1000
152.0 KB /Fairchild Channel F


Per avere un termine di paragone SEMBRA che il gioco più grande in assoluto sia Minecraft con 1 MONDO COMPLETAMENTE ESPLORATO (obiettivo praticamente impossibile da raggiungere) con la ragguardevole dimensione di circa ~100PB (PetaBytes!).